Going for a honeymoon in Maldives is one of the most wondrous. Maldives has been the most popular honeymoon destination in 2021, and this time too, it has managed to attract newly married couples from far and wide. Now that you have selected Maldives tour packages for honeymoon know that Maldives is an island of abundant natural mysteries and blue lagoon. Also known as the fantasy of paradise in the Indian Ocean.
As a honeymoon couple, you will be able to fulfill every dream you ever cherished in Maldives. Whether it is taking a relaxing spa with a partner, diving in the underwater world, making love in the luxurious resort, and everything alluring.
Here is the Maldives honeymoon itinerary for 4 days Maldives honeymoon package by India's experienced travel agent Roaming Routes. Maldives honeymoon package price is 100,000 per person, includes comprehensive package inclusions for a full recovery.
So let's see what experiences you will go through on this lovely Maldives journey.
Maldives Honeymoon Package Day Wise Itinerary
Keeping the aspirations of the couples in mind, we have included the best places in Maldives package that will give the feeling of a complete Maldives honeymoon tour in 4 days. There are enough activities, sea sports, and many other attractions to keep you busy.
Day 1: Grand Welcome at Male Airport
On the first day, you will receive a grand welcome at Male International Airport, and our travel representative will immediately transfer you by seaplane to your luxurious cottage. This is your first adventure in Maldives till you reach the resort by seaplane, in which you will be exposed to the marine world and will be admired by the aquatic creatures.
Taste the delicious seafood for your first meal in Maldives. Then go on excursions and island walks. You are entirely free on your first day in Maldives. Get in touch with your partner and socialize with the locals; this is your world.
In the evening, you will have a romantic dinner on the beach in the moonlight.
Day 2: Visit Maafushi Island and Enjoy the Water Sports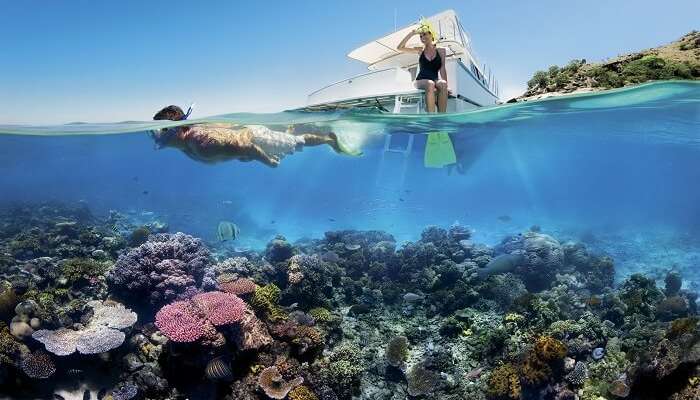 Maldives is the perfect destination for snorkeling and scuba diving. You will be a part of various water activities on the third-day Maldives tour. The 90-minute diving will introduce you to the mysterious Maldives.
After lunch, you will be taken to explore Mafushi Island, where you will be a part of many local competitions such as boat races, water surfing, and beach sports. While you are on Mafushi, be sure to visit the nearby coral reef where adorable turtles come to chug. In the evening, you will cruise in the Indian Ocean and watch the dolphins swimming nearby. You will be served delicious local cuisine as soon as you return to the resort.
Day 3: Explore the Como Coco Island
Maldives is a group of many islands. We endeavor to go to the most selective that is why you have been chosen for the island of Como Coco. A lovely destination surrounded by colossal coconut groves. Most of the honeymoon couples visiting Maldives take shelter on this island. Como Island will have a boathouse reserved for you where you will stay for the whole day. Under an alternate plan, you can book Banana Boat Riding and Sea Plane.
In Maldives, you will be served a different meal each day, and you will be entitled to a relaxing spa upon your return to the resort.
Day 4: Male Museum Visit and Departure
On the last day in Maldives you will be served breakfast early in the morning, then we have to leave for museum visiting in the capital of Male. The capital of Maldives is the bustling area of ​​the island where you will be glad to meet with people. The National Museum of Maldives is a great way to see mythological artifacts and remains of extinct animals found on the island. Apart from this, you will also see the cultural history of Maldives closely.
You will get a domestic flight from Male airport. Hope you have your best moments in Maldives.
Also Check: Best Candid Captions for Instagram
Conclusion
Roaming Routes brings you the best travel packages for holiday and honeymoon in Maldives from across the globe. We have handpicked only luxurious stays, and each package is designed to deliver an immersive experience. Visit the website to get the best travel deals on Roaming Routes and choose a package that suits your aspirations.